In what can best be described as a wildly festive and attractive conglomeration of high society meets fashion meets Mardi Gras-style chaos meets sports, the 141st Kentucky Derby weekend kicks off on May 1st in Louisville. During the "Fastest Two Minutes in Sports," horses race around a one-and-a-quarter-mile track at breakneck speeds. and spectators dressed to the nines bet thousands on horses while sipping signature Derby drinks (Mint julep, anyone?).
The Derby didn't always have all the bells and whistles, though. In 1875, after drawing inspiration from the Epsom Oaks races in England, the first official Derby held on American soil drew 10,000 spectators. Today, over 165,300 attendees flock to the races at Churchill Downs each year, and that number continues to grow. What hasn't changed, however, is the dress code. The clothes may be slightly different from the 1800's coattail and top hat ensembles, but the idea is still the same: always dress to impress. The upper-class style that embodies the highbrow nature of Derby spectatorship today began by borrowing from the British racetracks where three-piece suits, eye-catching pocket squares, and deliciously expensive cigars were all indicative of wealth and carefully curated as a display of status. Since then, though fashion at the Derby has evolved quite a bit, the desire to stand out from the crowd and project a sense of high society has remained a driving force behind every seasoned spectator's style.
Whether you're off to the races or watching at home, when it comes to fashion the gents at the Derby aren't horsing around. Draw some inspiration from the events and the iconic southern gentleman style that makes up Derby fashion. So mix up a mint julep or a whisky sour, proudly don your best boater hat, and select your favorite pastel tie. Here are five Derby-inspired ensembles curated with pieces that perfectly capture the style of the south.
1. Seersucker is a staple item of Kentucky Derby style. Though previously referred to as the "poor man's suit" because of its origins with the working class, seersucker suits have grown to become a "badge of affluence," a go-to material for summer style, and a statement that always commands attention. Today, this puckered, lightweight cotton fabric truly captures the essence of the Derby and southern fashion at large.
Vintage Green Seersucker Sport Coat, $175
Sperry Brown Derby Shoe, $185
Hold Your Horses Tie, $45
Flat Front Chinos, $50
2. Bright hues are an easy way to channel your inner jockey, and a colorful bow tie will help you get there. Add a button down shirt and suspenders to really sell your Derby day look. You can't go wrong with a pair of classic white derby shoes to finish off the statement.
Blue Oxford Pants, $70
Button Down Shirt, $30
Suspenders, $13
White Derby Shoes, $115
3. A bold sports jacket adds just the right touch of old-fashioned southern charm to a casual outfit. Bringing seersucker into the mix completes the style, along with festive cufflinks, of course.
Peach Linen Blazer, $175
Horse Cufflinks, $54
Seersucker Flag Belt, $75
Checkered Bowtie, $20
Washed Cotton Chinos, $88
4. A suit jacket vest is a comfortable and fashion-forward option for dealing with warmer weather. Don't be afraid to throw in a pop of color to brighten up the look. Top it off with a flat-topped derby cap to keep the sun out of your eyes.
Wool Suit Vest, $125
Polka Dot Bow Tie, $20
Grey Flat Cap, $37
Blue Twill Pants, $100
Two-Tone Oxfords, $90
5. If seersucker is the material of the Derby, then pastel is the color (or rather, color scheme). Don't be afraid to mix and match bright and subdued shades of your favorite colors. Throw on a Panama hat to really tie it all together.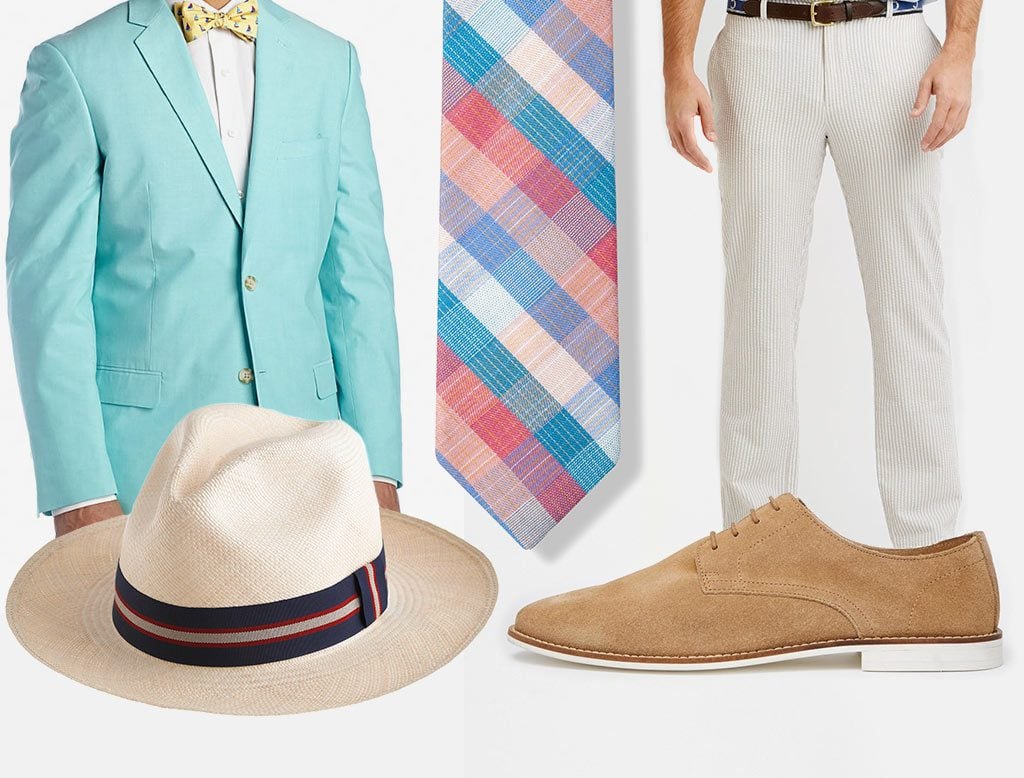 Seersucker Pants, $99
Panama Hat, $65
Suede Derby Shoes, $65
Coral Skinny Tie, $20
Panama Hat, $26
Latest posts by LilyAnne Rice
(see all)